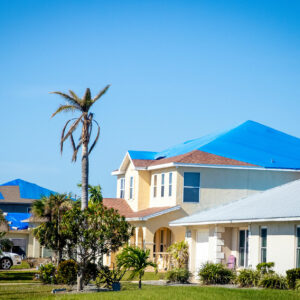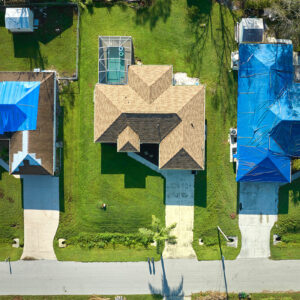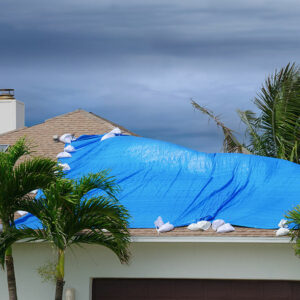 Tarping
Most importantly, your roof is your home's protection from the elements, and any breach requires quick action to prevent or minimize further issues.
Water — and potentially mold — damage can happen in your home when any part of your roof is damaged. While some harm may be obvious — a section of your roof is torn off, or shingles are obviously missing — even smaller breaches like cracked shingles, corrosion, or a tear in your roof's underlayment can allow moisture to get in. Rain, especially when it's combined with strong winds, can also cause damage when gusts momentarily force shingles up and drive water underneath.
The first step in mitigating further damage to your roof and reducing the chance of potential water damage to your home's interior is to tarp it. Tarping your roof is a short-term fix, but it gives you and the emergency services teams time to assess the damage and complete more permanent repairs.
When an emergency services crew tarps your roof, the amount of damage and type of roof may determine how the mitigation is performed. If there is significant damage in an asphalt roof, unfortunately most likely the tarp will have to be nailed in, in order to keep it in place. This often means that the roof will need to be replaced. If the damage is minor, or your roof is made of tile, the tarps will be held down with rope or sandbags. 
Whether your roof will need to be replaced, however, is a determination that your estimator will decide once they're able to review all the damage that has been incurred. The quicker that you're able to get a tarp on your roof, the less compounding issues will usually occur, though. 
We also recommend that you take pictures — or encourage the emergency services crew to do so — prior to putting tarps on. Having these pictures will help to expedite your claim with your home insurance company, as they will help to illustrate the initial damage that occurred.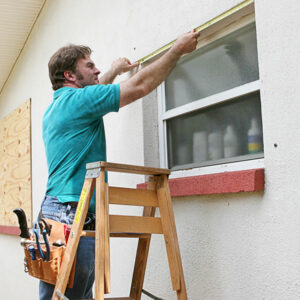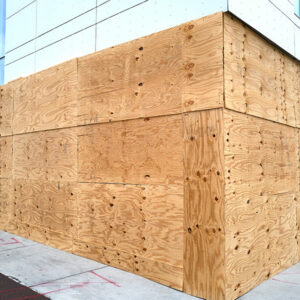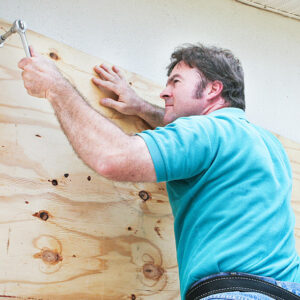 Board-Up
In addition to checking for roof damage, it's important to ensure that all other entry points to your home are also secure. A broken door frame or cracked window can allow water to get blown in, as well as offering an enticing opportunity for various critters who may be looking for a safe, dry place to ride out the storm. The last thing you want when trying to put your home back in order is to discover a family of squirrels has pitched in your kitchen! 
By either boarding up broken ingress points yourself or hiring professionals, you can help maintain the security of your home and reduce ongoing damage.
As with tarping, we recommend that you take pictures of all damage prior to boarding up any doors or windows. This will help to define the initial scope of the damage and expedite your insurance claim.
Our Services
Services like these are where EIG comes in. We recommend that you call your insurance company to get a recommendation for an emergency services company as soon as possible after you discover damage so that you can schedule professional tarping and mitigation services… or you can call us directly! We have professional crews ready to perform tarping and board-up services in the event of a storm, vandalism, act of God, or other destructive event.
EIG Restoration employs vetted emergency services crews who can mobilize to help mitigate time-sensitive damages immediately after a claim has been created or emergency services have been requested.
Once all mitigation work has been completed, our restoration teams can begin the important process of returning your home to its pre-loss condition. This may involve repairing the damaged areas, replacing any damaged items, and returning any objects and furniture back to their original locations in the home. 

Roofing and window repair, hail damage remediation, siding repair
When a weather event has caused damage to the exterior of a home, a quick response time for remediation and restoration can mean the difference of potentially thousands of dollars in compounded costs, for both a policyholder and their carrier.
EIG Restoration specializes in repairing Mother Nature's handiwork to prevent further damage to a home. We can perform hail damage remediation and siding repair, as well as tarping, repairing, and replacing roofs and windows that may have been damaged by wind.

Debris and tree removal, exterior painting, fence repair
A homeowner's property is often as much a point of pride as their home itself, which is why EIG is proud to offer many property-focused restoration services. We can provide debris and tree removal in the aftermath of a storm, as well as painting and fence repair.
EIG Restoration is a mitigation and restoration vendor that provides comprehensive home repair services that ensure that all customers can get back into their homes and into their lives quickly and with as little stress as possible.